Congratulations on the birth of your baby and welcome to our practice!
We look forward to watching your child grow and to providing quality health care in a caring and comfortable office atmosphere. We hope this booklet will serve as a common sense guideline, which will enable us to work together as parents and physicians to provide the highest quality of care for your children. Please keep this booklet handy, as you will refer to it often to answer some common questions and guide you through your child's care. At any time you any questions or concerns, please feel free to discuss them with us. See the most helpful sections down below or view the full book here.
Pediatric Vaccine Statement
The pediatricians at Pediatric & Adolescent Center of NW Houston have all witnessed tragedies and heartbreaks caused by vaccine-preventable diseases. Because of this we are strong advocates for vaccinates for vaccinating children to prevent illnesses we so frequently encountered in the past. We are also aware of the presence of misinformation, not validated by scientific studies, on the value and side effects of vaccines.
Not vaccinating your child not only puts that child at risk but also other patients of ours, including children too young to vaccinate and children with immune deficiencies. For the safety of all of our parents, we ask that you please vaccinate your child.
Pediatric & Adolescent Center of NW Houston strongly supports routine and timely vaccinations.
Appointments
After coming home from the hospital, please call our office to schedule your baby's first well-baby appointment. This first check-up should be within 2 days after you have been discharged from the hospital, unless otherwise indicated by the physician.
Our phone open at 8:00 am on weekday mornings. We will make every attempt to have you your desired physician. Please schedule appointments as far in advance as possible to ensure the physician of your choice. 
PLEASE REFRAIN FROM COMING INTO THE OFFICE WITHOUT CALLING THE OFFICE FIRST. We can always work an extra patient into our schedule provided we have some advanced notice. Patients without emergencies that "walk in" will only be seen after all regularly scheduled patients are seen. If you cannot keep your appointment or you are going to be late,  please call the office as soon as possible to avoid $40 no show fee. 
You can help us keep our schedule on time by:
Being on time on the correct date - Please arrive 15 minutes early. If you are more than 30 minutes late, you may be asked to reschedule.
Being specific about the reason for the visit when you make the appointment, i.e., well check, earache, recurrent headaches or any prolonged symptoms or illness.
Indicate when making the appointment if your child has a complex or chronic medical problem that will require extra time. This will allow us to schedule your appointment duration accordingly.
Colic & Crying
Babies cry for many reasons - they are hungry, wet, too hot, too cold, tired, sick, want attention, etc. You will begin to notice the difference between the cries and what your baby wants. Crying is their only way of communicating at this early age. Don't worry about giving your baby too much attention - when he is really young, pick him up and cuddle when he is crying.
If you are feeling overwhelmed by your crying baby, take some time away from your baby. This is a normal feeling. Ask a family member or friend to come watch your baby so you can step out for a walk. Or, if he is fed, burped and changed, place him in his crib for 10 to 15 minutes and step out of the room. Remember to NEVER shake your baby. Many babies become fussy around 6 p.m. - often the same time their parents arrive home from work.
If your baby is healthy, but is crying more than three hours a day, three days a week for more than three weeks, it may be colic. Colic is very hard for your baby and you. Colic usually foes away by 3 months of age.
Period of purple crying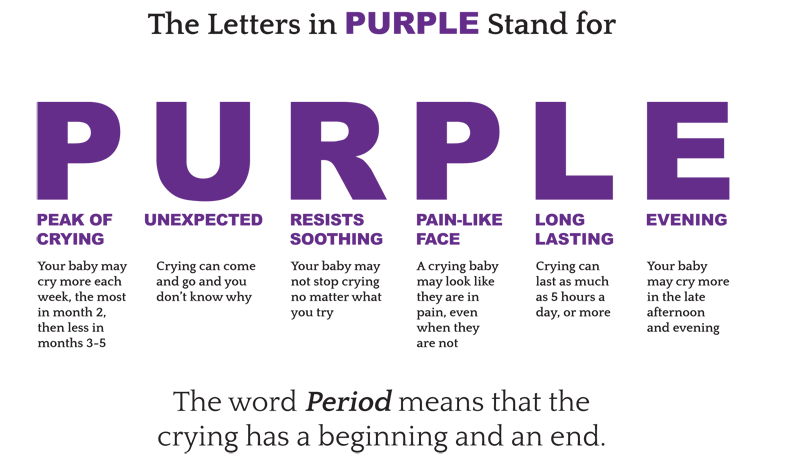 Pumping & Collecting Milk
Short and frequent pumping in the first 2 weeks of your baby's life can help improve breastmilk supply. If you plan to offer a bottle to your baby in the future, introduce it at 3 to 4 weeks of life. It's important to wash all bottles and pump parts in hot soapy water or in a dishwater; rinse and dry on a clean towel. Be sure to read follow your pump instructions.
Breastmilk Storage
Where
Temperature
Time
Comments
Countertop, table (fresh milk)
Room temperature 60° to 85° F (16° to 29° C)
4 hours optimal

6-8 hours at lower temperatures
Contents should be covered and kept as cool as possible; covering the container with a damp towel may keep milk cooler.
Insulated cooler tag
5° to 39° F (-15° to 4° C)
24 hours
Keep ice packs in contact with milk containers; limit opening cooler bag.
In a refrigerator
39° F (4° C)
4 days (optimal)

5 days acceptable
Store milk in the back of the main body of the refrigerator.
Freezer (compartment of refrigerator)
5° F (-15° C)
2 weeks
Freezer (compartment of refrigerator with separate doors)
0° F (-18° C)
3 - 6 months
Store milk away from sides from sides and toward the back of the freezer where temperature is most constant. Mix stored longer than these ranges is usually safe, but some of the fats break down over time.
Deep Freezer
-4° F (-20° C)
6 - 12 months
Storing Breastmilk Tips
Wash your hands before expressing or handling any milk.
Store your breastmilk in screw-cap bottles or bags specifically designed for breastmilk.
Label all your breastmilk with the date and time it was expressed and use your oldest milk first. If giving it to a caregiver, clearly label it with your child's name.
Freeze milk in 2 to 4 oz. portions to reduce the amount of waste.
Do not add fresh milk to already frozen milk.
Thaw your milk in the refrigerator or by placing it in a warm bowl water.
If your baby does not finish his milk during a feeding, the recommendation is breast milk may be reused within 1-2 hours. After that time frame reused breast milk should be discarded to avoid transfer to bacteria from baby's mouth to bottle.
Cold & Cough
A cold is a very common illness in children. Most children will average 8 to 10 colds in their first two years of life. If your child has older siblings or is in daycare, he may have more. Colds are easily passed between children who are in close contact to each other. The cold will most likely start with a clear runny nose, then turning into a yellow or greenish discharge. Other symptoms include sneezing, low fever, decrease in appetite, irritability and coughing. A typical cold will resolve itself in 7 to 10 days. If the cold worsens or your child is under the age of 3 months, call our office.
There are a few at home treatments you can give your child to help treat a cold.
Humidifier - Use a humidifier in your child's room.
Nasal Drops - If your child has thick mucus, use saline nasal drops to help clear nostril. Also use a nasal aspirator to help clear the mucus.
Fluids - Your child should drink plenty of fluids. Even if your child doesn't have an appetite, continue to offer a drink.
Sit Up - Have your baby sit in an infant chair or swing to help keep their nose clear. Laying down flat can also fill up the nose more.
TYLENOL - If your child has a fever and is irritable, TYLENOL may be appropriate. Consult with your doctor.
Fever
If your child has a fever, that means he is fighting an infection. It is the body's normal response. There are several types of thermometers. For children under one of age, you should take their temperature rectally. For children over one one year of age temperature can be taken under the armpit, in the ear, or temporally (forehead).
Your child has a fever if he has a rectal or oral temperature over 100.4° F or axillary temperature over 99° F. Temperatures under 102° F do not need to be treated with medication. Make sure your child is drinking plenty of liquids and he is wearing minimal clothing. Bundling him can cause higher temperature. If your child has a fever over 102° F or seems uncomfortable, medication may be necessary. Follow the chart on the next page for medication dosage.
*If your child is under 3 months of age and has a fever, call the office immediately. Do no give babies under the age of 3 months medication until speaking with your pediatrician.
TYLENOL (Acetaminophen)
| Weight (lbs) | Age | Infants' TYLENOL Oral Suspension (Acetaminophen 160 mg in each 5 mL) | Children's TYLENOL Oral Suspension (Acetaminophen 160 mg in each 5 mL or 1 tsp) |
| --- | --- | --- | --- |
| 6 - 11 | 0-3 Months | 1.25 mL | - |
| 12 - 17 | 4-11 Months | 2.5 mL | - |
| 18 - 23 | 12-23 Months | 3.75 mL | - |
| 24 - 35 | 2 - 3 Years | 5 mL | 5 mL (1 tsp) |
MOTRIN (Ibuprofen)
| Weight (lbs) | Age | Infants' MOTRIN Oral Suspension (Ibuprofen 100 mg in each 5 mL) | Children's MOTRIN Oral Suspension (Ibuprofen 100 mg in each 5 mL or 1 tsp) |
| --- | --- | --- | --- |
| 6 - 11 | 0-5 Months | Do Not Use | - |
| 12 - 17 | 6-11 Months | 1.25 mL | - |
| 18 - 23 | 12-23 Months | 1.875 mL | - |
| 24 - 35 | 2-3 Years | - | 5 mL (1 tsp) |
Car Seats
It's very important to read the manual of your car seat to make sure it is installed correctly. The seat should be snug to the rear seat and not move more than 1 inch from side to side. Follow the chart below for optimal safety.
| Age Group | Type of Seat | General Guidelines |
| --- | --- | --- |
| Infants/Toddlers | Rear-facing only seats and rear-facing convertible seats. | All infants and toddlers should ride in a Rear-Facing Car Seat until at least 2 years of age and 20 pounds or until they reach the highest weight or height allowed by their car seat's manufacturer. |
| Toddlers/Preschoolers | Convertible seats and forward-facing seats with harnesses | All children who have outgrown the rear-facing car seat should use Forward-Facing Car Seat with a harness for as long as possible, up to the highest weight or height allowed by their car seat manufacturer (around age 4 and 40 pounds). |
| School-Aged Children | Booster Seats | All children who have outgrown the forward-facing car seat should use a Booster Seat until the vehicle seat belt fits properly (usually around age 8 or when they are 4'9" tall). |
For more information on child safety seats, visit www.nhtsa.gov
A certified child passenger safety technician can check your installation and answer any questions. To locate on near you, visit www.seatcheck.org